Are you new to Calgary, and are you looking for a dentist for you and your family?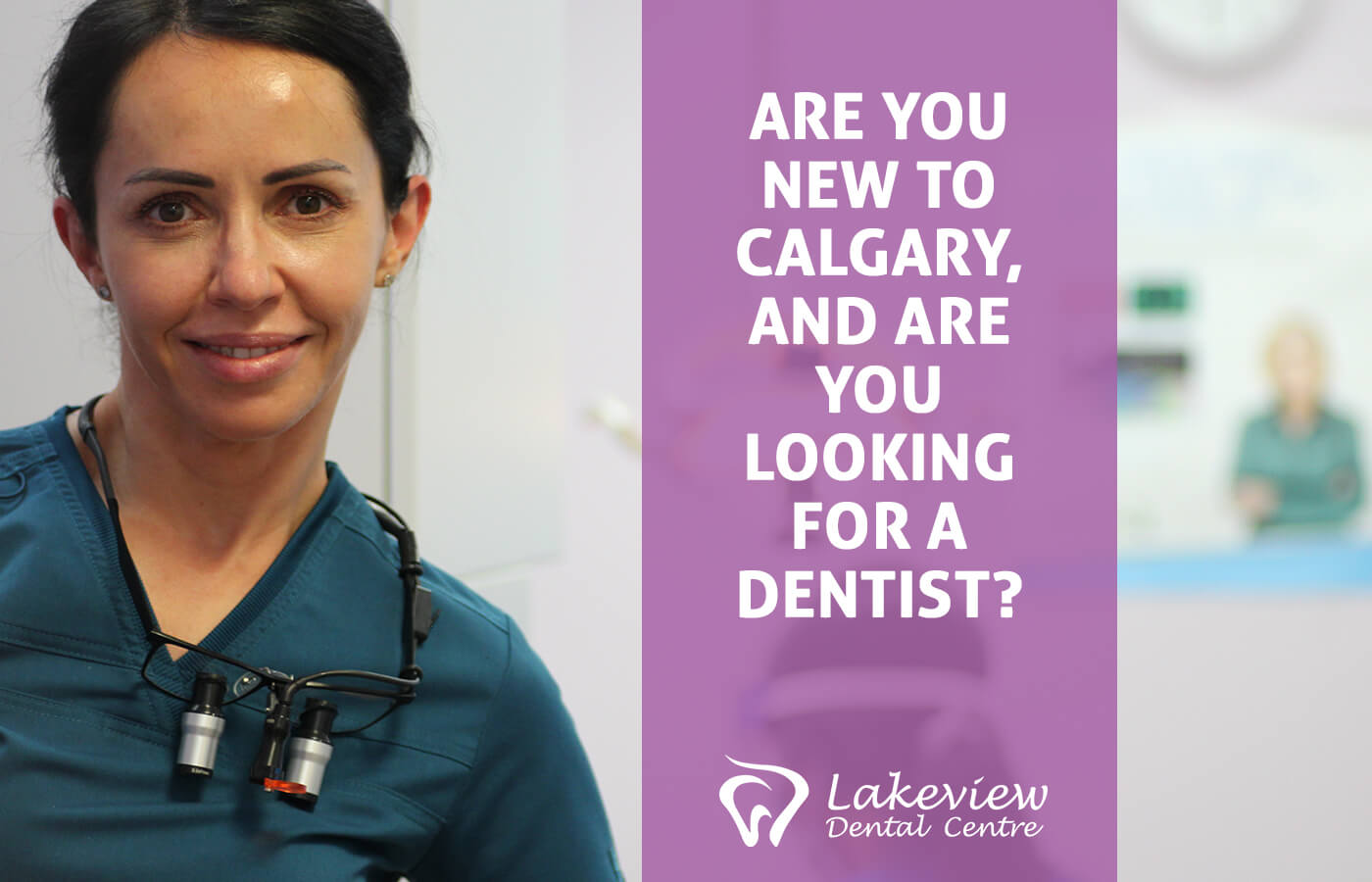 You are in the right spot. Our dental office in Lakeview community, SW Calgary, Alberta, is here to serve you and your family. We accept any newcomer to Canada or anyone who just moved to Calgary from another part of the country.
We know what it means to be a newcomer and not to understand how things work in a new country or a new city. We want to make your life easier and help you integrate and find out all the details regarding your oral health and what benefits you have by living in Alberta.
Solutions for Dental and Oral Health in Calgary, Alberta
You should know that in Canada there are dental offices or specialists that will help you prevent and treat any dental issue you may face.
There are general dentists, like our office, where you will go the majority of times for dental exams, x-rays, cleanings, dental extractions, crowns, some orthodontic treatments, dental implants, and many more.
For complicated treatments like a more difficult orthodontic treatment, a very complicated root canal or highly complicated extraction, you will need to go to a specialist.
Some of the different types of specialists are:
Orthodontist
Periodontist
Oral and Maxillofacial Surgeon
Endodontist
Prosthodontist
Pediatric Dentist
Read more about each one of them on this article here.
Based on your situation and the skills of your general or family dentist, he or she will recommend less or more specialists exams and treatments. In Alberta, the same as in any other part of the world, if you will go to a specialist will cost you more, than going to a general dentist.
Our general dentist is qualified to offer the majority of dental services in our office, and only the extremely complicated cases and the ones we can not serve in our office will be recommended to visit a specialist.
7 Essential Criteria to keep in mind when you chose your general and family dentist in Calgary
Let's take each one of them and see why it is crucial to evaluate each dentist and office from that point of view.
1. The Skills and Passion of the Dentist
We all agree that a passionate person will strive to grow and learn more over time while doing it's best to serve everyone in that specific moment.
The best part is that you do not need to be a dentist yourself to have the ability to evaluate people based on passion and skills. The passion or love for a specific domain is the easy one to notice because you can see it in one's eyes, and the way they treat you. And the skills are also visible when you see the diplomas and certificates on the office or when they explain procedures and if you hear about new technologies, that they use daily in their office.
2. The capacity of the dentist to evaluate you from a whole-body point of view, not just your teeth
If the dentist you are seeing is talking only about your teeth and nothing about your general health, and how your oral health influences your general well being, you should know you are in trouble. That dentist is not up to date with the latest medical protocols and procedures to treat different disease and how things are connected in your body. We encourage you to change your dentist fast if he or she is not taking into consideration your general health too.
3. The ability of the dentist to easily communicate with you
Some dentists are fantastic, but it is hard for them to communicate with patients. If this is not an issue for you, you are ok, that dentist might be a very good one. Communication is essential. You need to find someone that knows how to communicate in a way that you understand and appreciate it. You need to know what's going on with your oral health and you need to have the freedom to ask any question knowing you will always get an answer and you will never be judged for asking that silly thing.

One more aspect of communication is language. If you do not speak English well, you should look for a dentist or office that offer services in your native language, or offer translation services. The best part of living in Calgary is that we have people from all around the world living in our city, and many dentists speak at least one more language than English. Also there a great dental assistant or front desk receptionists that might be able to assist you with translations from English to your mother language.
4. The staff friendliness and professionalism
During a dental visit you will spend most of the time with the dentist, but the rest of the staff are equally important. You need to enjoy spending that time in the office, and friendly and professional staff will always make your visit more pleasant, helping you to relax and even enjoy your dental appointment.
5. The office and location
Many times when you go to an office, especially in a downtown area you will have to pay for parking. If this is an essential thing for you, not to pay for a 2-4 hour parking because of your dental appointment, search for a dentist that is in a plaza where the parking is free. Or if you prefer to use Calgary transit, look for a dentist that is close to your usual route.
If you do not like driving on a highway, search for a good dentist close to your home or work office.
If you have a busy schedule, look for a dentist that is open early in the morning or late at night, or even weekends if that is what you prefer.
If you need certain facilities to be there for you, ( like easy access for wheelchairs or baby strollers) search for an office that has it.
6. Other's people opinions about the office
When you are looking for the best dentist, remember you are not the only one who needs a dentist. One place to start is to ask your friends and family whom do they recommend.
Or if you found a place, go online and see what other people say about a dentist or an office. Remember when you evaluate the reviews someone received to check both the positive and the negative ones and how that office or dentist responded to them. This will help you understand what type of personality the dentist has and how they manage their reputation. This step should not be the only criteria that you use because all opinions are subjective, and each person is unique. Just because someone had a bad experience, it doesn't mean you will have the same issue. We encourage you to use this step, especially after you have been at least once in that office for an appointment and then you will know better how to evaluate the reviews other people left online.
We also encourage you to look for an average of reviews, and not just to one or two of them, because some people are just mean and want to hurt others, and others may have a different plan. Use your judgement and get informed.
7. Your experience
Your personal experience is always the best way to know if one dentist and dental office fits your requirements and is the best solution for you and your family. One way to have an experience with the office is to book a meet and greet or a dental exam for a specific issue or a full new patient exam that will offer you a 360 view on the office, staff, protocols and skills, of a dentist. This way is not always the cheapest, but will always be the best way to make up your mind about a dentist or a dental office.
10 Reasons why you should choose Lakeview Dental Centre as your General and Family Dentist in SW Calgary
We are proud to have Dr. Violet Newman as our general dentist, here at Lakeview Dental Centre. Here are seven reasons why we believe you will make the best decision if you choose our office as your family dentist while living in Calgary.
1. Genuine Care for Your Oral and General Health
Dr. Violet Newman cares for her patients oral and general health, and she will always take into consideration your whole body and how every organ and system interacts with the rest. She will always take the time to listen to your concerns and questions and offer you the pro and con arguments for every option you have for your situation.
2. True Passion Dentistry and Continuous Learning
Dr. Violet Newman is passionate about continuous development and learning. Many times you will find her listening to a book, a webinar or a workshop. Or you will be surprised to notice a new diploma on the wall on your next visit. She decided she wanted to become a dentist when she was only six, and since then, she did not stop learning. Our fantastic dentist loves to learn about: nutrition, sports and fitness, mental health, inflammatory diseases, different surgery techniques, solutions for periodontal disease, sleep apnea appliances, new dental implants technologies, using the latest technologies in dentistry, how your oral pathogens influence your general health, how to prevent systemic disease and much more.
3. Our Patients are our First Priority
Dr. Newman is always putting the best interest of her patients first. She will never recommend the most expensive procedure when there is a better way for less money. The majority of the procedures or treatments you will be able to have access in our office, only extraordinarily unique and complicated cases will be referred to specialists.
4. Giving back to our SW Calgary Community
Dr. Newman loves to get involved in the community and giving back, either by supporting different sports team, events or programs or even participating in the campaign Start School Smiling. At our office, you may also get no-obligation short exams for specific questions or a second opinion. We also organize events when she is answering questions and helps people understand the importance of oral health.
5. Friendly, Accessible, and Easy to Talk to
When you talk to Dr. Newman, you will see that she is accessible, she never considers any question to be foolish, or unworthy to be answered. She will make sure you understand all dental procedures with their advantages and disadvantages so you can make an informed decision. She is friendly, always smiling and easy to talk to, and she knows how to help you get over your fear or anxiety.
6. State of the art technology and the latest dental treatments
If you want to benefit high-quality solutions using the state of the art technology and the latest dental treatments procedures when it comes to
dental ceramic CEREC crowns for teeth restoration or dental implants,
laser dentistry,
pinhole gum rejuvenation treatments for gum recession,
clear smile aligners from SureSmile for a beautiful straight smile,
or even to test drive your future smile and see upfront what your smile will look like at the end while having the option to adjust and make it perfect for you.
7. Unique Dental Treatments and Cosmetic Procedures
If you want something unique for your smile, our dental office is the place to go to. At our dental office in SW Calgary, we take pride in offering some unique services, that you may not have access to easily in other places around the city, and we offer them in one place.
OraVital Salivary DNA testing for identifying the different types of oral pathogens that causes your gum disease and put your health at risk
Pinhole Gum Surgery, the scalp free, suture-free Treatment for Gum Recession and gum rejuvenation
Cosmetic restoration of your smile using Ceramic Veneers, Ceramic Crowns, Dental Implants with the option to test drive your smile at the beginning of your dental treatment
Clear Aligners from SureSmile to help you improve the alignment of your teeth
Transform your smile with the latest LED light for Teeth Whitening from Philips Zoom or add a little sparkle to your teeth with our 2020 Bocca di Moda Handcrafted Tooth Jewelry Collection.
8. Free Parking, Easy Accessible, Wheelchair friendly
You will never have to pay for parking or struggle to find a parking spot when you come to your dental appointments. Our office is very close to the bus station, and there are no stairs, so any wheelchair or baby stroller can smoothly go through.
9. Friendly and professional staff in a relaxed atmosphere
We cherish all our patients and we treat them like family. Our staff will look for your best interest and are always here to serve you and answer any question or concern you have regarding your oral health. You can check what our patients say about their experience with Dr. Violet Newman and our office. Check our reviews on Google here.
10. Clean and Safe
At Lakeview Dental Centre in SW Calgary, we follow all guidelines from the Alberta Dental Association and College regarding sensitization and cleaning of the office, and everything we use. Our team is diligently cleaning and disinfecting everything often, according to all protocols. You are safe to come to our office, even during a pandemic. We also do our best to use more natural cleaning and disinfecting products, so you will have a better experience when you come by.
If you are not convinced yet if our dental office is or not the best place for you, we encourage you to call our office at 403.242.5900 and book a meet and greet or consultation with Dr. Violet Newman now.
You can also use this form to book an appointment right now, make sure you tell us the best phone number where we can contact you to confirm your appointment.