Get Your Custom Made Teeth Jewelry in SW Calgary!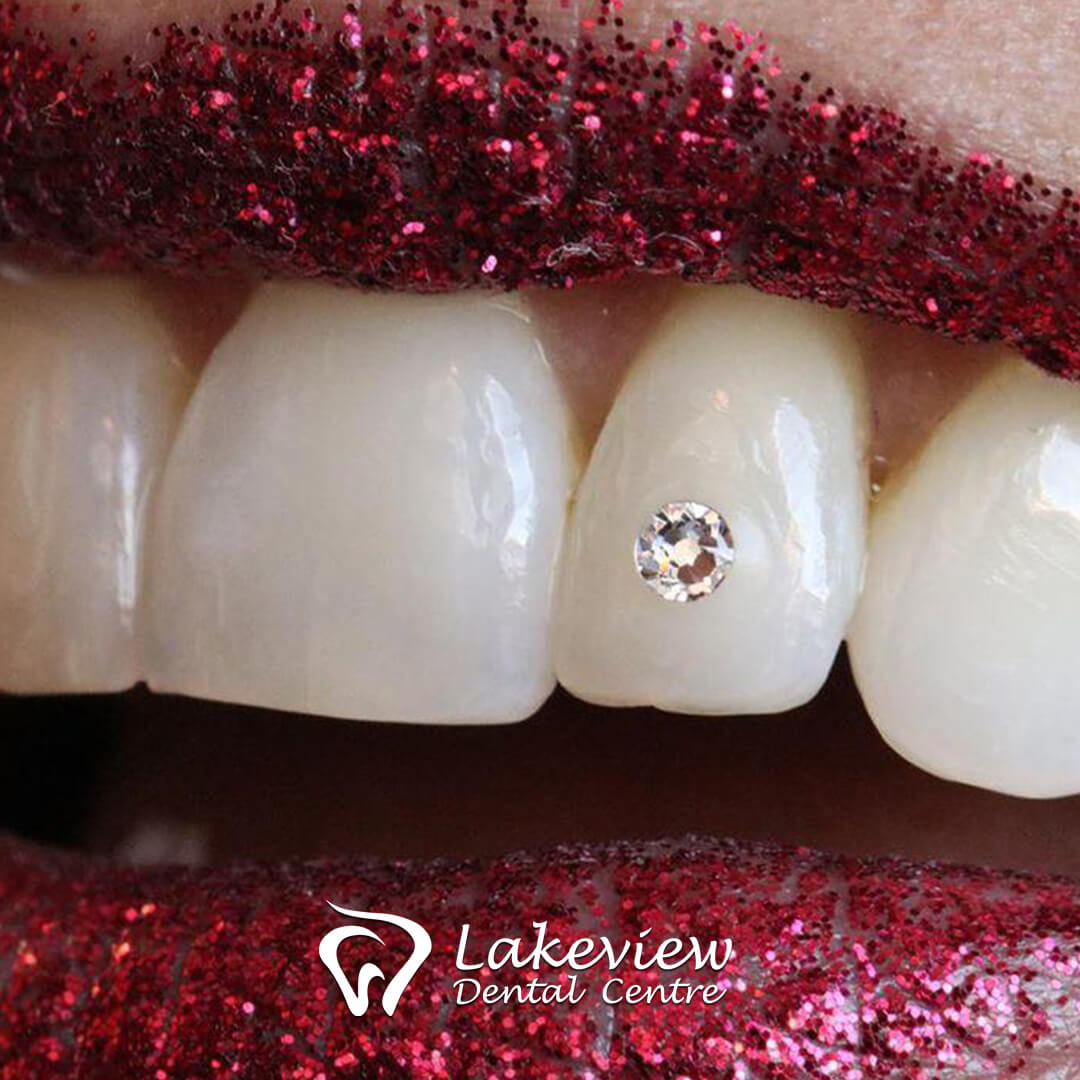 Are you looking for a unique way to express yourself? Do you want to embrace your individuality? One of life's hardest decisions is the decision to be yourself! And one way of showing who you are is with tooth jewelry! With tooth jewelry, you can make a statement without a word! And here at Lakeview Dental, we offer custom-made tooth jewelry services! 
However, you may have questions about this procedure; that's understandable. As your trusted dentist in SW Calgary, we want you to have all the information you need to make the right decision for you. 
Most frequently asked questions about Teeth Jewelry 
Is tooth jewelry safe for your teeth and general health?
Before you decide on tooth jewelry, know what you're getting into! Not all dental jewelry is created equal. Make sure the vendor can confidently guarantee that the 'gold' they sell will not corrode in your mouth!
A proper dental alloy for intraorally (in your mouth) will be a specific composition of high noble alloys. You must know what type of metal your tooth jewelry is made of so that the metal does not corrode in your mouth.
Our Bocca di Moda dental jewelry is 100% biocompatible and manufactured by registered dental technicians. 
You can watch our lanching video here on Youtube! 
Can these diamonds or crystals damage your teeth?
NO! Bocca di Moda's custom-made teeth jewelry is explicitly made for use in dentistry and does not damage the teeth in any way.
But how does teeth jewelry stay on your teeth? Do you need a drill?
We will not drill your teeth to apply your Bocca di Moda jewelry!
They are fixed to your tooth using a special bond that makes them easy to apply and take off. Or you can choose the removable types to put on or take off whenever you want (just like any other jewelry).
The removable ones are made just for you and require teeth impressions to ensure they fit perfectly. But you can use them for longer periods.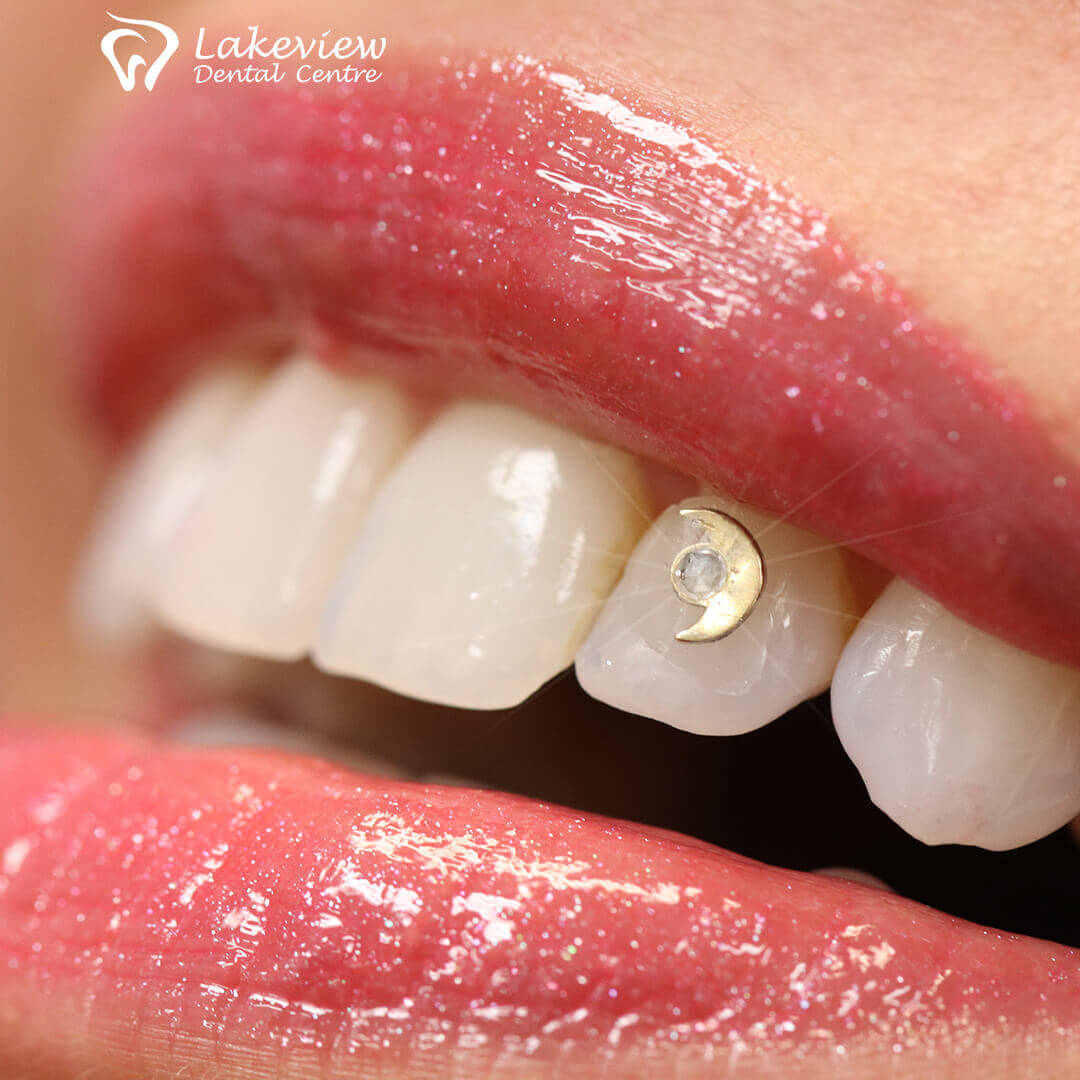 How long can you keep or use tooth jewelry?
We recommend changing your temporary tooth gem every 6 months at your hygiene appointment, allowing you to select a new design. Then, when it comes to the removable ones, as long as you do not change your teeth' shape or size, you can use them for a very long time! Like you would use a regular ring, necklace or bracelet.
Can you eat, drink, or speak normally with custom-made teeth jewelry?
Yes, you can speak clearly, but with eating and drinking, it depends on the type of jewelry you pick. For the fixed ones, you will not have any issues with eating and drinking. Regarding the removable ones, we do not recommend you eat or drink with your teeth jewelry on. You can easily take it off while you eat and drink and put it back on after. Also, we encourage you to clean them before you store them in a jewelry box. 
In addition, you should pay attention when brushing your teeth to make sure you clean them thoroughly. You should also know that you can still brush your teeth using an electric or manual toothbrush, and your tooth gem will stay in its place.  

Can tooth jewelry change the colour of your teeth?
The fixed tooth jewelry is applied to your teeth with a transparent dental bond. The bond may change its colour over time because of the type of food or drinks you consume. This is another reason we do not encourage you to keep it on your teeth too long. The reflection of the gold from the tooth gems can make your teeth look a bit more golden for someone with good sight, and if you have white teeth, this can be more visible. 
When you choose crystals or diamonds, your smile will be more shiny and sparkly, and people will notice it, but these materials do not change your teeth colour; although they can reflect the light on the environment, your teeth will not change their colour.
What kind of jewelry do you have, and where can I see them?
We offer a large variety of dental jewelry made from diamonds or crystals and 3 different colours of gold (rose gold, white gold or yellow gold). They can be small or big, discreet or more prominent. You can choose to have them only on one tooth or over multiple ones. They can have a standard shape or a custom design shape and size. And your investment can start as low as $175 for one crystal tooth gem. 
You can see pictures on our Instagram page, Facebook Group Smile Calgary or the Bocca di Moda website. Moreover, we can create almost any shape you wish. We can discuss this at your first free consultation. 
Who can have tooth jewelry?
Teeth jewelry is for anyone who wants to show their style and personality or if you love diamonds and gold. In case you need some essential dental restorations or other necessary oral treatment, we encourage you to take care of your oral health first. Then, after addressing your major oral health issues, you can pick your tooth jewelry. Also, if you plan to have your teeth cleaned or whitened in the next few months, we encourage you to do that and get your teeth jewelry. 
We believe your health is essential, so we have a short consultation before any teeth jewelry selection and application. You should also know that we can apply teeth jewelry on a denture, implant, crown or veneer.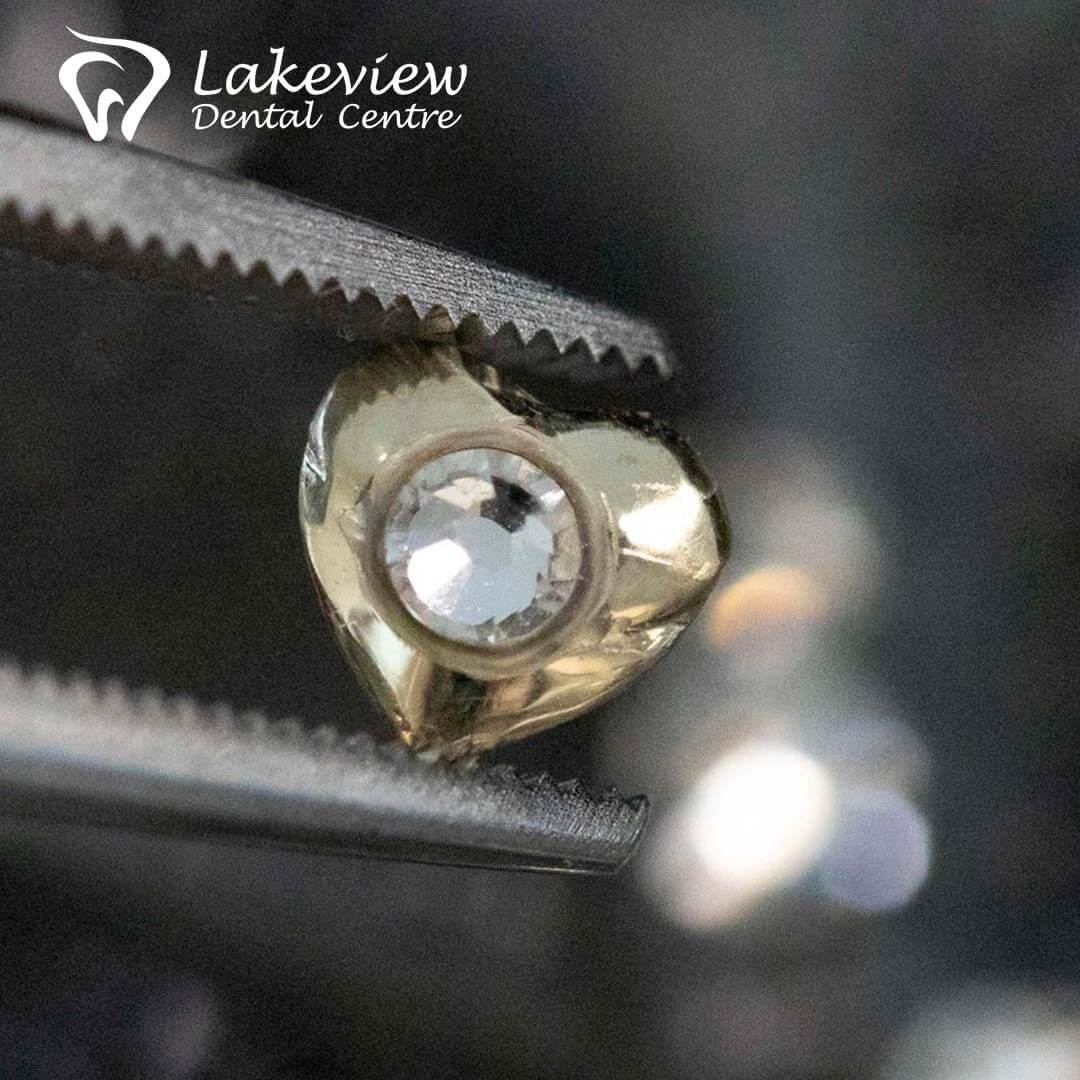 How much does it cost to have custom-made tooth jewelry?
The initial consultation is free and should take up to 10 minutes.
The cost of teeth jewelry depends on the type of jewelry, size and material used or if it is a standard or custom shape and design. Our fixed dental jewelry prices start at $175. The crystals will have the lowest investment required, while the gold and diamonds will be more expensive. The general rule is the more prominent the size, the higher the investment. Also, a standard shape will be more accessible than a custom-designed one.
When it comes to removable custom-designed dental jewelry, the investment will depend upon the weight of the gold, the number of diamonds, and the design fees. Also, we will need to take impressions and ensure that after the tooth jewelry is finished, it fits your teeth properly. Therefore, the application fee for removable custom-designed dental jewelry will depend on the total time and work needed until the end of the process. For this reason, we will inform you of the final cost when deciding the type of jewelry you want.
What is the process, and how long it takes to get tooth jewelry?
After deciding to enhance your smile with tooth jewelry, you will pick the type of jewelry you prefer. Do you prefer it fixed to your teeth or easy to take off and put back on whenever you want? We will book you for a short free consultation based on your answer.
If you know what you want, and you are sure you want a fixed, standard size, or style teeth jewelry, you can have your teeth gem applied to your teeth on the same visit. It should take about 30 minutes in total. However, if you are unsure which one will fit you best, what colour of gold, what shape, or what size, etc., we will help you understand your options. Then, we will book you for your next appointment after you decide.
If you prefer removable tooth jewelry, we will need 3 visits. The first is the free consultation, then the visit when we take impressions, and once the custom design is completed, you will get your teeth jewelry. This process can take up to 10 days as our dental artisans are handcrafting this just for you. The required time to manufacture your custom-designed removable tooth jewelry depends on our partners Bocca di Moda. 
We will inform you precisely about it on your second visit. At the end of the procedure, we can take some lovely pictures of you and your new smile. You can keep these pictures just for yourself or share them with your friends and family!
Who can apply a tooth gem on my tooth?
There are just a few dental offices in Calgary where you can get a tooth gem applied. And at Lakeview Dental Centre in SW Calgary, we are honoured to be one of them. Our general dentist Dr. Violet Newman, our hygienist Jassminne and our dental assistant, Divya, were all trained and certified to help you decide and apply your tooth gem to the right spot on your teeth without any pain, discomfort, or damage to your teeth.
Brighten Your Smile With Custom-Made Tooth Jewelry Today!
Teeth whitening is not the only way to brighten your smile. Custom-made tooth jewelry can add that extra shine to your teeth while expressing your unique personality. And at Lakeview Dental, we want to help you reach that outcome! Contact us today to experience custom-made tooth jewelry!