The Negative Consequences of Ignoring Cavities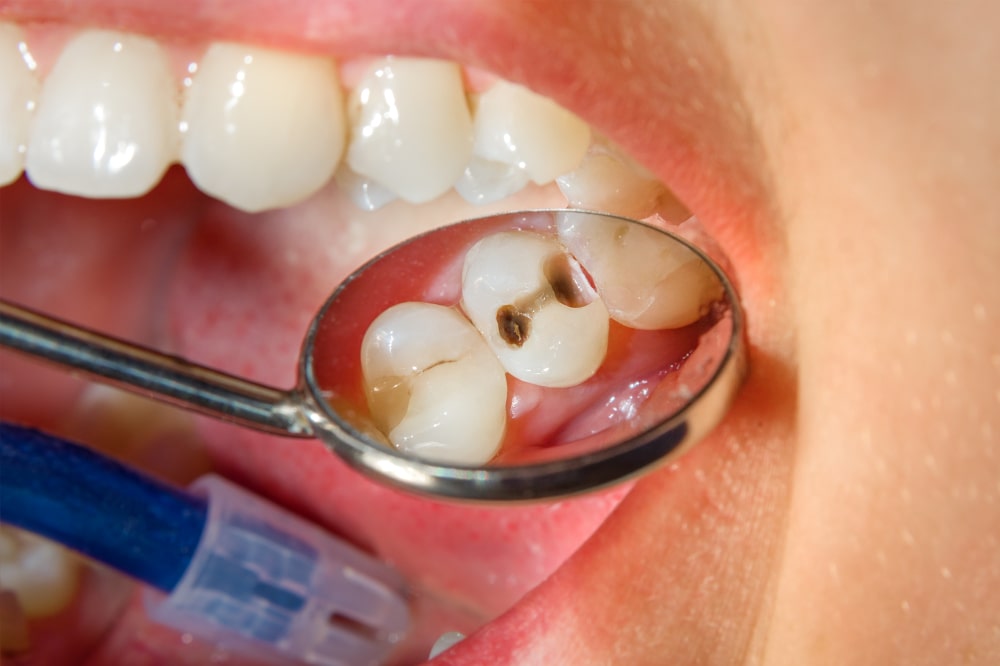 Everyone knows you shouldn't ignore cavities. The reason being is that the quality of your oral health is indicative of the quality of your overall health – this concept is lost on many people. The good news? With a few simple changes (such as brushing & flossing daily, developing healthy eating habits, and getting regular checkups), you can turn your oral health around rather quickly.  
And that's where we, here at Lakeview Dental Centre, can help. As your trusted dental clinic in SW Calgary, we house a team of dedicated staff as well as the latest innovations in dental technology to provide you with the clean and healthy smile you deserve. 
Visiting your dentist in Calgary regularly is essential for maintaining your oral health. Finding a cavity may not seem like a big deal at the moment. However, if left unchecked, the consequences can become quite severe.
But before learning about the negative consequences of ignoring your cavities, it's helpful to understand…
What Are Cavities?
Many people believe cavities are just a form of tooth decay. And while that assessment isn't necessarily wrong, it's certainly not the entire answer, either. The truth is cavities are contagious diseases. In fact, similar to winter cold, cavities can spread from person to person beginning with someone who has poor oral hygiene. 
Cavities start off small – but over time – begin to enlarge if they are not properly treated. And because they don't cause any pain in the early stages, it can be particularly hard to see them as an issue.
This is why frequent dental checkups are important. At Lakeview Dental, we have the tools, equipment, and expertise to detect cavities early and prevent them from spreading and compromising your tooth integrity. 
Why You Shouldn't Ignore Cavities
Cavities are a very common health problem. Anyone who has teeth can develop cavities. And similar to most problems, the more you ignore a cavity, the more it spreads and the worse it becomes. 
Here is why you should never ignore cavities:
It May Result in Unnecessary Treatment
Once a cavity reaches the dentin (the dense bony matter that forms the bulk of your tooth under the enamel), it will need to be treated. If the cavity extends to the nerve of the tooth, you will start experiencing pain. At this point, the nerve will need to be removed via a root canal treatment. 
Additionally, if the structure of your tooth has been compromised and is unable to support a filling or a crown as a result, then tooth extraction will need to be performed. These are procedures that can be avoided with proper dental health habits and regular checkups. 
It Could Cause Further Infection
If left untreated, cavities can infect the tooth nerve, eventually causing the nerve to die. Consequently, infection to the bone (known as a tooth abscess) occurs, which will also require a root canal or extraction. For this reason, preventing cavities or treating them early as possible is the key to more affordable treatment, with considerably less pain.
How to Prevent Cavities
No one has to experience the nasty side effects of cavities left untreated. And preventing such a circumstance is really a matter of lifestyle. At Lakeview Dental, we advocate for and teach our patients the importance of good oral care for healthy living. 
Here are a few tips to get you started:
Brush twice a day (with an electric toothbrush using fluoride toothpaste, if possible)

Floss or use soft picks at least once a day

Eat a healthy diet (vegetables, high-quality protein, lots of water, etc) 

Use a medicated mouthwash

Limit alcohol and sugar intake

Visit your dentist regularly (aim for twice annually)
Final Thoughts
A cavity is not something to be ignored. If left untreated, it will only grow worse which can result in serious infections that can be completely avoided with the proper oral care. Most dental professionals agree you should visit your dentist at least once every 6 months. By doing so, you'll live a happier, healthier, and more pain-free life. 
At Lakeview Dental, we are your caring, trusted dental professionals. We pride ourselves on quality oral care, the latest industry-standard dental equipment, and a positive experience for everyone who walks through our doors! 
Our team of experienced dental experts are here to ensure the quality of both your smile and oral health. Contact us today to learn more.