Why is it essential to have a Complete Dental Exam, what it is included and who needs it?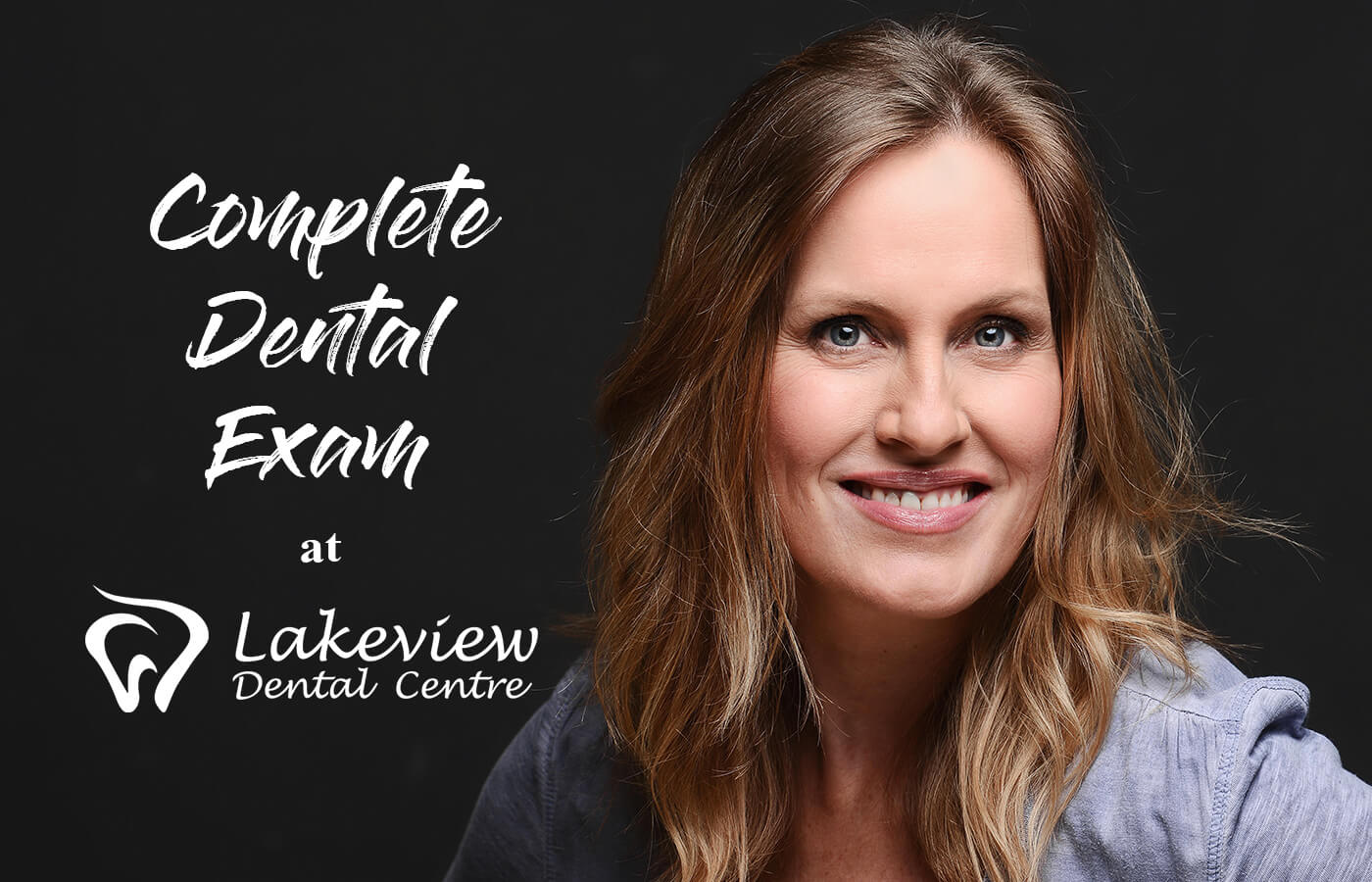 During this difficult time, when health is so important and we are all so aware of viruses, bacteria, disease, and how they can be transmitted or how we can protect each other, let's take a moment and learn about how can we prevent oral and systemic inflammatory disease. It all starts with good oral health. How do you know if you have good oral health? The best way is to come for a complete dental exam at Lakeview Dental Centre.
We want to let you know that during this pandemic we see our patients needs, and we want to help and say "Thank You!" for continuing to be our patients or deciding to become one.
To book your Complete Dental Exam call (403)-242-5900
It is the time to find out about a Complete Dental Exam. Why you need it? Who needs a Complete Dental Exam? What is included in a complete dental exam for new or existing patients? What dental technologies do we use during a complete dental exam at Lakeview Dental Centre in SW Calgary?
What is a Complete Dental Exam or New Patient Exam, and when do you need it?
The Complete Dental Exam is a detailed dental exam that takes into consideration up to 45 different aspects of your health in about 1 hour. All our new patients may require one, and our existing patients are encouraged to have one every year. The purpose of this exam is to have an accurate evaluation of your current oral and general health and set up priorities and solutions to possible issues.
I believe you are a bit curious about what can be on our long list of things that we do check at every complete dental exam, and why do we need so many, and how can we do them all in just one hour?
45 Points we check at every patient complete dental exam 
Fill in the forms, policies, photo consent, communication consent and privacy policies. 
Dental X-rays – Every year, you will need new x-rays to see how your teeth are now and what changes occurred. Usually, you will need Bitewing X-rays, Periapical X-rays every year and Panoramic X-rays once every 3-5 years or as recommended.
Your current concerns, questions and expectations- We take the time to listen and see things from your perspective.
Are you anxious about dental visits and what we can do about it?
Your medical history – Your oral health is influenced by your general health, and your general health is affected by your oral health. This is why we will take the time to address your medical history, possible allergies, and current medications. 
If you are a woman, we will ask you if you are pregnant or not. 
Your habits – Are you a smoker? Coffee drinker? Or do you like to eat lots of sweets? 
We will ask you about your current diet and eating habits. 
We will ask you about how many hours of sleep you usually have and if you have any issues with your breathing while sleeping, or if you feel rested when you wake up. 
We may also ask you if you are in a very stressful time in your life and what is causing it, as stress could affect your oral health. 
Your oral health habits – Do you brush and floss your teeth, how often do you do this, and what do you use? We will also take the time to explain to you what is the best way to maintain your oral health using various effective tools. 
We will take digital photographs of your smile, teeth and profile. 
Your dental health – We evaluate your current dental health carefully inspecting every tooth surface, jaw joints and muscles and will check all oral soft tissue. 

When was your last dental visit and cleaning?
We will check if you have any missing teeth, either extracted or not yet grown.
We will check for existing cavities. 
We will note and check the integrity of all your dental work done in the past. 
We will note all dental fractures you may have and identify the possible cause. 
We will note all dental treatment and restorations you had before.
We will check for any chipped or broken teeth, crown, bridge, veneers or any other broken or damaged dental restorations. 
We will check and see how much calculus and plaque you have on your teeth.
We will discuss if you have any issues with bad breath or halitosis. 
We will check the health of your gums and all your bleeding points and pocket depths. We will then enter it on your periodontal chart. If you do suffer from gum disease or gum recession at any stage, we will take the time to explain what it is and why it is essential to take a salivary DNA test to check the cause of your gum disease. 
We will look to see if you have any bone loss.
We will check for any infected teeth. 
We will check the position of your teeth and your bite and decide if there is a need for orthodontic treatment to align the teeth and fix your bite. 
We will check the position, shape, size and colour of every tooth and let you know if any of them require further treatment. 
We will check the position, stage and direction of your wisdom teeth and decide if they need to be removed or not. 
We will check for swollen glands. 
We will discuss signs of clenching and grinding on your teeth and jaw muscles.
We will inspect your temporomandibular joint (TMJ), jaw, muscles, dental arches, and lymphatic system. We will look for any jaw pain, jaw clicking and popping, ear pain/earache, popping sounds in ears, headaches, stiff or sore jaw muscles, pain in the temple area, or locking of the jaw joint. 
If you suffer from frequent headaches, we will discuss the issue and try to find causes and solutions. 
We will inspect your cheeks, tongue, tonsils, lips, palate and gums to assess the health and integrity of the tissues.
We will discuss your oral hygiene routine. 
We will do an Oral Cancer Screening using the VELscope. Read more about it here.  
We will do a teeth shade assessment and discuss teeth whitening options.
We will also address any stains that you have and what you can do to prevent them. 
We will assess your teeth from a cosmetic point of view, and discuss any concerns or options to help you achieve your perfect smile. 
We will take enough time to explain your current oral health state.

We will do a Sleep Airway Assessment and discuss with you about the importance of sleep and breathing while sleeping, snoring, and possible side effects of sleep deprivation or sleep apnea. 
We will discuss if you have any concerns regarding signs of aging such as crows feet, frown lines, or facial or lips volume loss?
We will discuss if you have any concerns regarding smile lines and wrinkles and what solutions you may have. 
If you are interested in dental jewelry, we will discuss the different options and solutions available now at our office.  Read more about it here.
Based on our evaluation, we will prioritize the urgent and most crucial issues to address first. We will explain all dental treatment options with their advantages and disadvantages, including timeline and prognosis.
Based on your decisions, we will make a plan and discuss any other questions you may still have.  
To book your Complete Dental Exam call (403)-242-5900
What technologies do we use during a Complete Dental Exam? 
Digital Dental X-Rays – you are exposed to 10 times less radiation compared to regular dental x-rays.
Digital Photography – Using the Canon ESO Rebel T3i Digital SLR, we can see more details of your smile and teeth, while recording your current oral health state and how this improves and evolves.  
Dental Loupes – Wearing loupes chairside improves clarity, focus, and visibility that allows our dentist and dental hygienist to identify conditions before they progress. Once missed by the naked eye, our specialists are equipped with an enhanced vision to detect disease earlier. Additionally, the improved vision enables our dentist to perform dental procedures with greater precision and ease. Clinical research confirms magnification drives to less invasive, more conservative care.
The VELscope Vx – We use VELscope for Oral Cancer Screening, without discomfort, pain and non-invasive. The VELscope blue light stimulates natural fluorescence in the soft tissues of your mouth. Seen through the VELscope VX, the natural fluorescence allows our specialist, Dr. Violet Newman, to see disease not visible with the naked eye. Using the VELscope VX technology enables us to discover oral disease before anyone can see it under ordinary light.
OraVital Salivary DNA Testing – this is an excellent advantage to have access in our office to Salivary DNA Testing through OraVital. This test is painless, non-invasive, and it can be done before your dental cleaning appointment. It will show you the levels of harmful pathogens in your oral cavity that threaten your general health and increase inflammation in your body, starting with your gums. After the test, if you need, at our dental office in SW Calgary, you can have access to the right treatment for your specific situation. This is NOT included on the regular dental cleaning, but it can be added.  
Why is it essential to have a Complete Dental Exam, whether you are an existing patient or a new one?
Protect your Oral and General Health
The most important reason is for your health, both oral and general health. Our body is interconnected, and our oral health has a significant impact on your overall health. Especially during this pandemic, we all learned the importance of our health. Taking the time to invest in your health, it means you protect yourself, your family and your community.
Prevention is always the best option
The second reason is that prevention is always less costly and easier than treatment. It is always easier to treat a small dental issue than significant decay or tooth infection. We want you to live a long and healthy life while you still enjoy your natural teeth. You can protect your teeth and enjoy them for a very long time if you develop good oral health habits. One of these habits is your regular dental checkups, cleanings and complete exams. Also, taking good care of your oral health will improve your overall health and prevent more complicated inflammatory diseases.
1 hour with the dentist
The third reason is that you have access to our dentist and for a full hour you can ask all your questions regarding your oral health, and find answers to all of your concerns. We do know that many dentists and specialists are so busy that they can not offer you more than 5 or 10 minutes to discuss your concerns. At Lakeview Dental Centre, we listen to your concerns, and we take the time to answer all your questions. We will explain in detail your current situation, what is the most important and urgent issue to address, what options you have with their advantages and disadvantages.
To book your Complete Dental Exam call (403)-242-5900
Why choose Dr. Violet Newman at Lakeview Dental Centre in SW Calgary to be your Dentist?
Kindness
Excellence
Innovation
Confidence
Performance
1. Kindness
If you take the time to read what people write about our dentist, Dr. Violet Newman, you will see that one of the common attributes people mention about Dr. Newman is: she is kind, friendly and cares for your needs, your health, and your situation. She takes the time to listen to you, to understand not only your oral health but your overall health and what is causing that issue. She genuinely fights for your best interest, to protect, restore or transform your oral and general health. She is gentle and emphatic, always trying to understand and see beyond to find the cause and positively impacting your life.
2. Excellence
Dr. Newman's greatest passion is being the best at what she does; she always learns and always looks for ways to improve and be better every day. Dentistry is not just a job for her, it is her passion. She always likes to discover more. Passionate about the latest studies, technology and innovation, she strives to beat herself every day and be better than how she was the day before.
3. Innovation
The world around us is in continuous change and transformation. There are new problems discovered and better solutions every day. This is true in all areas but especially in the medical field, like dentistry. Dr. Violet Newman is passionate about being up to date with dental procedures, studies, and state of the art technology. This will impact your experience at our office but mostly will impact your oral and overall health.
4. Confidence
Who can fully trust a doctor that is not confident in the treatment or evaluation he or she does? Being confident, not out of arrogance, but out of practice is what we should all look for in a good doctor. With over 11 years of practice in Calgary and other 8 years in Romania, after millions of fillings, crowns, extractions, root canals, hundreds of dental implants and more, confidence is one of the strongest qualities you will find in Dr. Newman. The source of confidence should be knowledge and practice, and the desire to know more, to be better while focusing on growth. Also, being confident means to have the courage to admit when you do not know everything. Dr. Newman will always recommend other specialists for difficult situations and treatments she can not do. Working with others and helping them grow and encouraging them is also a way a confident person lives. Dr. Newman is not only confident in her own abilities, but she is confident in her team and the specialists she recommends.
5. Performance
The greatest impact on someone's performance is consistency. You will always find Dr. Newman accessible, friendly, kind, compassionate, focused on learning, focused on your health and best interest. Performance doesn't mean perfect; it means never giving up, finding solutions, improving, innovating, learning and accepting feedback. Performance does not mean quantity, but it meant quality, having patients' best interest in mind every time.
To book your Complete Dental Exam call (403)-242-5900
How many and what kind of dental exams are there?
Emergency Dental Exam – is about 5-10 minutes; it usually requires x-rays and is necessary for people that have significant dental pain and discomfort.
Dental Specific Exam – when a patient has a particular question about a precise treatment, it may require x-rays depending on the issue. At our dental office in SW Calgary, you can benefit from a dental-specific exam for dental implants, smile design, clear aligners. This exam is also short, about 5-10 minutes. 
Second Opinion Dental Exam – for patients that are not convinced about the solution offered by another dentist, and they want to know the opinion of a different specialist. They are short exams and focused on one topic or question only. It might require x-rays either from the previous dental office or new ones. 
Simple Dental Check-up – Is done once a year after dental cleanings, approximately six months from your complete dental exam. It may or may not include x-rays, and is a short dental exam. The purpose is to see how your dental treatment plan is going and to answer any questions you may have or address any new situations on your oral or general health. 
Primary Dental Exam – is a complete dental exam for about 30 minutes for children. This usually is their first dental visit. It may include x-rays.  
New Patient Complete Dental Exam – is the complete dental exam for new patients to our dental office in SW Calgary.
Periodic Complete Dental Exam – it is your annual complete dental exam with Dr. Violet Newman. 
Do you need a Complete Dental Exam? What to do now?
If you are looking for a dentist in SW Calgary, we recommend you to call (403)-242-5900 and book a Complete Dental Exam with our general dentist, Dr. Violet Newman.
If you are new to Calgary or Canada and you need a dentist here, you should know that we do accept new patients. Call (403)-242-5900 and book your Complete Dental Exam now.
If you are already a patient of Dr. Violet Newman, and you haven't been for a complete dental exam in the last 2 years or more, please call our office (403)-242-5900, your oral health is essential.
If you know someone who needs dental work or is looking for a new dentist, feel free to recommend Dr. Violet Newman and our office to them.