Oral Cancer, the hidden threat, and what you can do about it?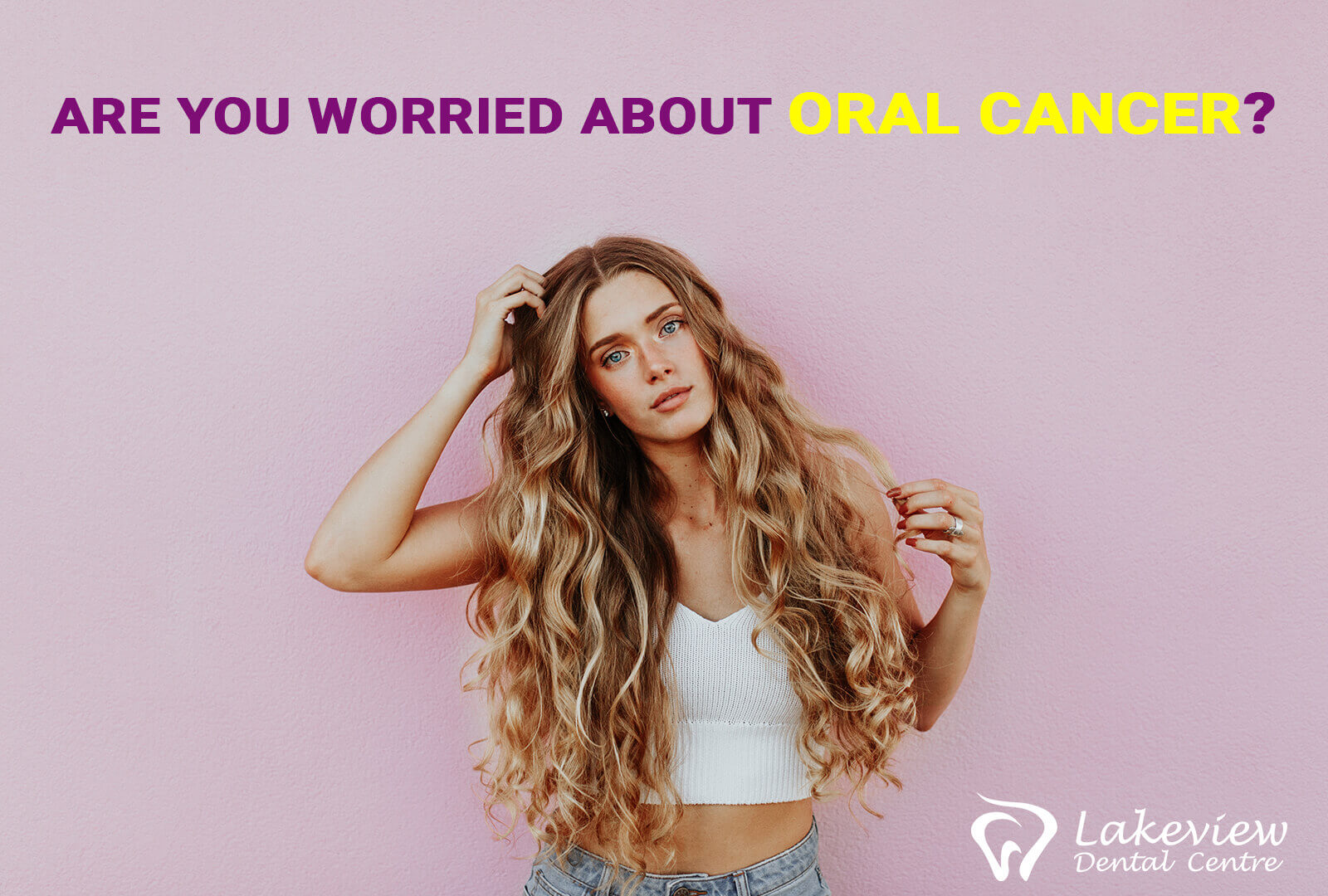 Are you worried about Oral Cancer?
Do you know that 25-30 % of Oral Cancer is associated with HPV Infections?
HPV (Human Papilloma Virus) is a virus that can cause warts, oral or genital cancer. There are different types of HPV, but the ones with HPV-16 have 15-200% more chances to develop oral cancer!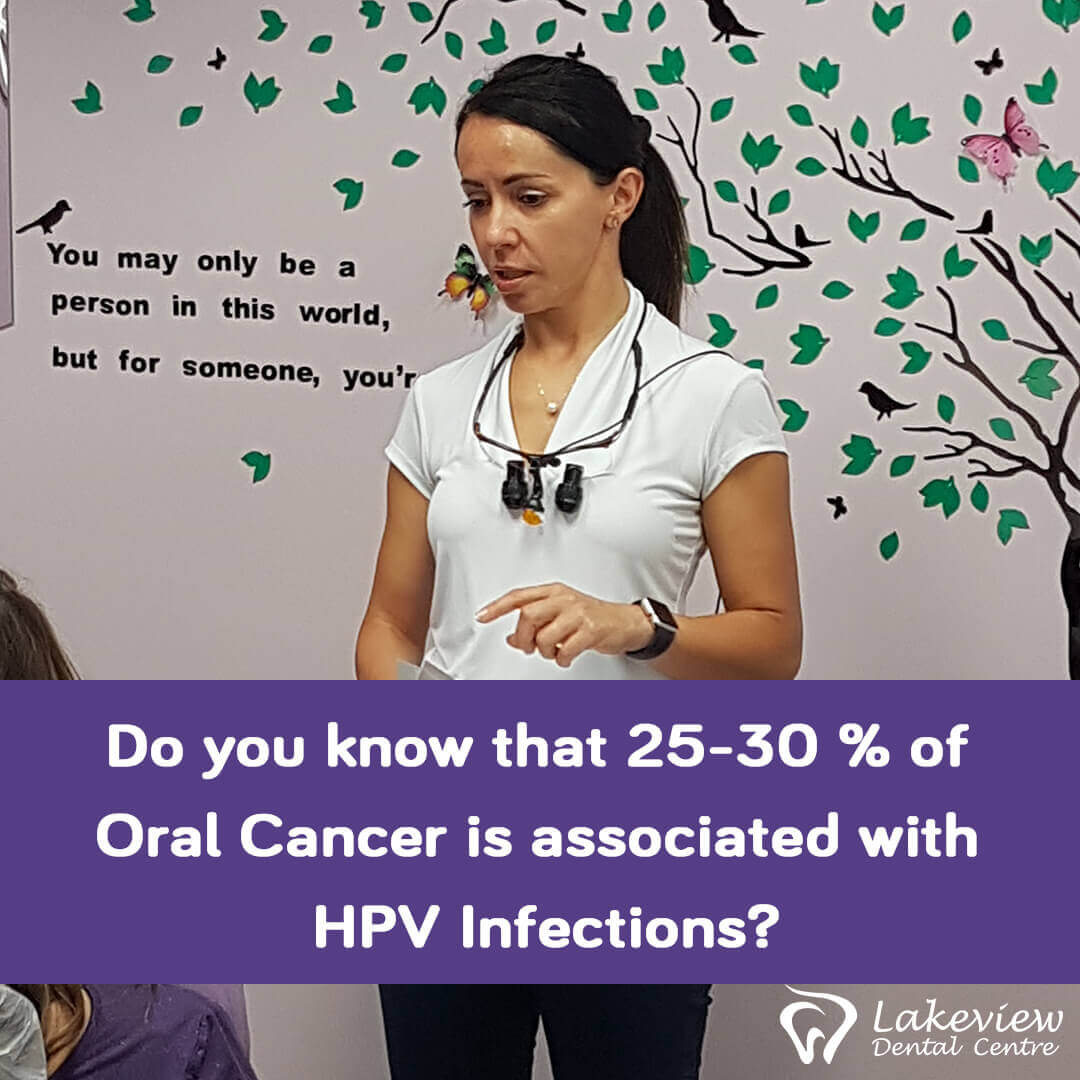 According to the Canadian Cancer Statistics Advisory Statistics ( Toronto, ON, 2016), 25-30 % of Mouth and Throat Cancer is associated with HPV Infections, while a majority of oropharyngeal cancer is associated with tobacco and alcohol use.
Who is at risk of getting infected with HPV?
While sexual contact is considered the primary mode of transmission for HPV, evidence suggests any skin to skin or skin to mucosa contact, suck as kissing and vertical transmission through childbirth, can also transmit the HPV infection.
This means both female and men are at risk of getting infected with the HPV virus.
What are the signs and symptoms of Oral Cancer?
The worst part about oral cancer is that in the early stages is usually painless, and the physical signs may not be obvious. This makes it harder to spot, and the treatment is often delayed. Oral cancer is a very dangerous disease because it is so hard to spot at an early stage.
Regular screenings by a qualified medical or dental professional, combined with a person's knowledge of the warning signs and symptoms, will allow its discovery in the earliest stages, when cure and survival are most likely. Even pre-cancerous tissue can often be detected by a trained professional.
Early indicators
red and/or white discolourations of the soft tissues of the mouth
any sore which does not heal within 14 days
hoarseness which lasts for a prolonged period of time
Advanced indicators
a sensation that something is stuck in your throat
numbness in the oral region
difficulty in moving the muscles in your mouth, lips or tongue
difficulty in swallowing
ear pain which occurs on one side only
a sore under a denture, which even after adjustment of the denture, still does not heal
a lump or thickening which develops in the mouth or the neck
What can you do?
If you are worried that you might be infected with HPV, the first thing you need to do is discuss this with your family doctor. If you visit your dentist, ask if they offer Oral Cancer screening. You should know that at Lakeview Dental Centre, Oral Cancer screening is part of our new patient exam and also in our regular checkups. We use VELscope Vx for early discovery of oral abnormalities, like oral cancer. It is the quickest, easiest and most efficient way to discover dangerous lesions that would have otherwise been undetected. VELscope Vx Oral Cancer Screening is noninvasive and painless and is part of our diagnostic protocol at Lakeview Dental Centre in SW Calgary.
The VELscope Vx helps us identify oral disease early, while it's still easy to treat.
Do you know your chances of survival in case of Oral Cancer?
The oral cancer 5-year survival rate is very good if it is found early, about 83%.
But found late, the oral cancer 5-year survival rate drastically decreases to only 32%.
Clearly, the key to survival is discovering the dangerous lesions as early as possible.
At our dental practice in SW Calgary, all our patients are screened for oral lesions. We use our VELscoupe Vx that allows us to determine dangerous areas early.
How VELscope VX works and why to use it?
Using VELscope VX to scan your mouth for oral lesions is one of the best, easy, fast, painless and efficient way to determine Oral Cancer at a very early stage.
The VELscope Vx blue light stimulates natural fluorescence in the soft tissues of your mouth. Seen through the VELscoupe VX, the natural fluorescence allows our specialist, dr. Violet Newman, to see disease not visible with the naked eye. Using the VELscoupe VX technology enables us to discover oral disease before anyone can see it under ordinary light. If you can easily see an oral disease in ordinary daylight, it means it may be quite late for you. Your survival rate may be decreasing daily. You need to see a specialist as quick as possible to find the best treatment solution for you.
What solutions exist to Prevent Oral Cancer?
For Oral Cancer caused by the HPV-16, you should get a vaccine.
HPV vaccination prior to onset of sexual activity and exposure to HPV is recommended to maximize the benefit of the vaccine.
We are proud to be part of Alberta because here are many free solutions for this. The National Advisory Committee on Immunization (NACI) recommends Gardasil and Gardasil9. In Alberta, you can have access to Gardasil 9 through the provincial routine vaccination program to all students in grade 6 or grade 9. All HPV vaccines for students are free and are supported by the government until grade 12.
Here are other groups of people that have access to free HPV vaccines in Alberta: men 17-26 years of age who have sex with men, hematopoietic stem cell transplant recipients from 9 years up to 12 grade, and solid organ transplant recipients 9 to 26 years old.
If you are not in one of the eligible group for free HPV vaccine, do not worry. You can get a prescription from your family physician or a pharmacist.
Who else should get an HPV vaccine?
Girls and women from 9 to 26 years old, including those who have had previous Pap test abnormalities, cervical cancer, or genital warts should get an HPV vaccine. The HPV vaccine may also be administrated to women 26 years of age and older who are at ongoing risk of exposure to HPV.
Boys and men from 9 to 26 years of old should receive the HPV vaccine. The HPV vaccine may also be administrated to men 26 years of age and older who are at ongoing risk of exposure to HPV.
For the other type of oral cancer caused by tobacco and alcohol, we recommend you to stop using alcohol and tobacco on a daily bases. Come for regular dental checkups so we could use the VELsope Vx and early determine if there is anything unnormal on your oral soft tissues.
What can you do to reduce your risk factor of developing Oral Cancer?
To reduce your Oral Cancer risk, do the following:
Stop smoking or chewing tobacco
Drink less than 15 alcoholic beverages (glasses) per week, or even stop using it all
Never combine alcohol and tobacco
Avoid chewing or smoking betel nut and bedis
Use at least SPF 30 sunblock on your lips to reduce the unprotected exposure to the sun
Have a balanced and various diet, rich in fruits and vegetables
Get the HPV vaccine to prevent HPV 16 infection
Come to regular dental checkups
Go to your annual general checkup
Be aware of the health of your significant other
Decide to live in a place where you have access to quality medical treatment and medicine
In conclusion, at Lakeview Dental Centre in SW Calgary, we believe in prevention. This is why we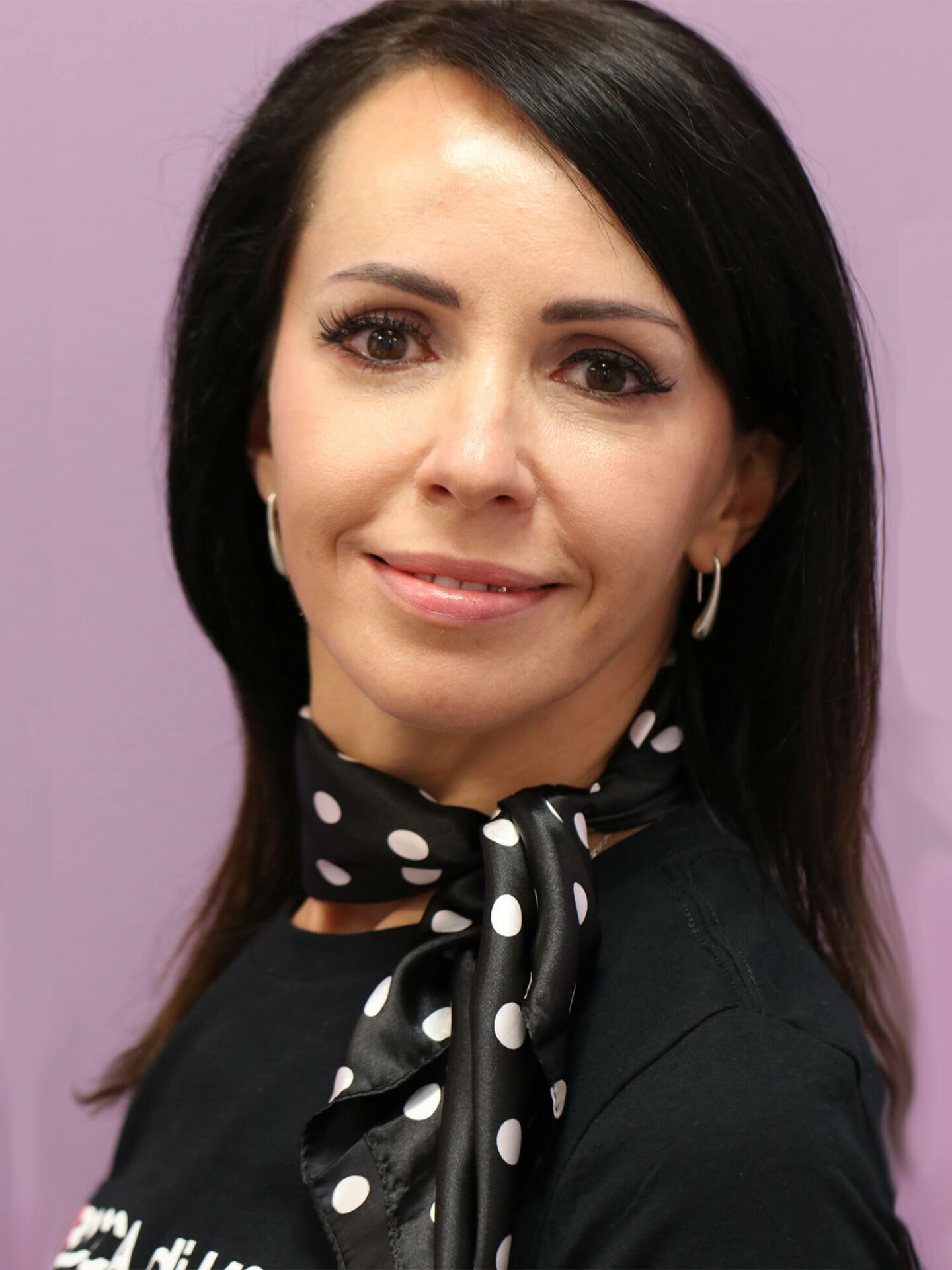 decided to include an Oral Cancer screening in all our diagnostic protocols for both new and regular patients.
We believe that we can discover a majority of oral anomalies using the latest technologies of VELscope VX and our well-trained dentist professional. We genuinely care for you and all our patients. This is why we do our best to stay up to date with the newest ways to prevent and treat oral disease. If you are looking for a dentist in Calgary or you just want a second opinion feel free to call and book an appointment because this is what we do all day, every day.
We are here to serve you.
You can easily find us on Lakeview Plaza, SW Calgary, 104 – 6449 Crowchild Trail, SW Calgary, AB, T3H 5R7. There is a big, free parking lot and is easy to access for people with disabilities or wheelchairs. We serve all ages, and we offer a great variety of dental treatments.
Call now and book your next appointment (403)-242-5900
Our office hours are Monday, Wednesday 11 am – 7 pm, Tuesday, Thursday 7 am – 3 pm, Friday – reception only – 8 am – 2 pm.